L
ast month we examined ways to determine where to start. The approach chosen was first to organize products by value streams and choose an Initial Application Area (IAA).
Now that an IAA has been established we will begin looking at the methods to make it as Lean as possible. Remember, a value stream can include everything from taking the order to collecting the cash. Work teams can be identified in the various sectors of the IAA to work on Lean initiatives.
Now it is time to look into the toolbox: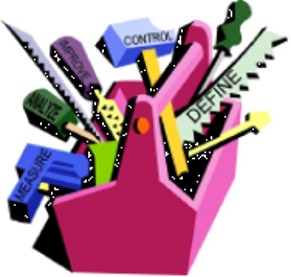 Value stream mapping


5S


Visual factory


Kaizen and Kaikaku


Quick change over (SMED)


Monuments & remedies


Lean performance measurements


Six Sigma


So where do we start? Let's first consider the five principles of Lean:
Customer defines value


Eliminate waste


Customer establishes pull


Involve and empower people who add value


Total cost is the ultimate performance metric


Let's begin with principle number one - the customer defines value. This really means that a value added activity is what the customer is willing to pay for. Processes are comprised of a variety of activities, but precious little is value added. In a manufacturing process the only value added time is the machine cycle time - the time the part is in the machine. All the time waiting in batch and queue, transportation, inspection, or in a buffer is non-value added time.
Therefore, the best place to start is to reduce non-value added time. The value added time is "what it is" and there does not need to be much attention given to improving it. A faster cycle time may appear appealing, but this is such a small number compared to the non-value added time; it is frequently not worth the effort.
The next question is:
"How do we reduce non-value added time?"
In order to see the difference between value and non-value added time we start with something called a Value Stream Map. With this tool we will begin to distinguish between Dock-to-Dock (DTD) time and Cycle Time. The difference between these two numbers represents the opportunity for improvement. Once we understand the opportunity for improvement and the possible magnitude, we can begin to create the plan to organize the activities.
Next month we will examine the process of creating a "Current State Map" and gain understanding of the Lean Performance Metric "DTD".