A
s we begin to look at Define, Measure, Analyze, Improve, Control (DMAIC) let's start with a general overview.
Both Define and Measure use tribal knowledge to assemble the logic necessary to successfully complete the project. Define is generally creating the Charter, organizing the team, and generating the proper infrastructure for the project. Measure begins to assemble the tribal knowledge. Tools such as process mapping, prioritization, and FMEA are frequently used during this phase. All of these methods stand completely on the opinion of the experts.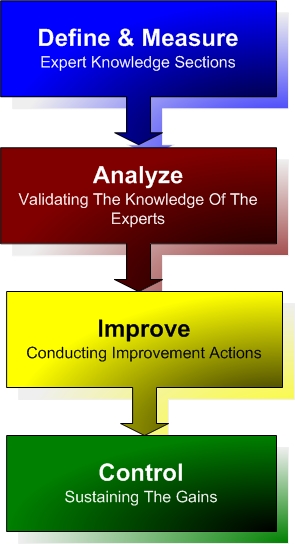 Analyze is specifically used to validate the expert knowledge with data. Most projects rely on profound understanding of "cause and effect" relationships. Statistical methods organized under the name "Multi-Vari" Studies are employed. Numbered among these tools are:
Regression and correlation



Significance testing



Various types of passive data analysis



Screening designs (fraction factorials)



Improve is where the active manipulation of the Red X's (most useful cause and effect relationships) begins. At this point DOE and other optimization methods are employed.
Control is all about sustaining the gains. This is where Control Plans and Procedures are created. Additionally, training and proper hand-off takes place. In future issues we shall look more closely at each section of DMAIC.